Biography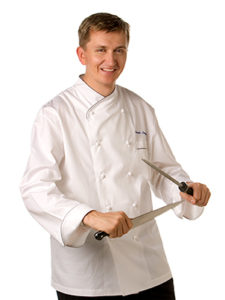 Josef Jungwirth is a results oriented Hospitality, Food & Beverage Operations Management Executive with an extensive portfolio of accomplishments from years of experience working with major corporations, as well as small and large scale Four/ Five star Global Cruise Ships, Hotels and Resort operations.
Born in Koeingwiesen, Austria, Josef knew early that he was destined to become a Culinary Artist. At the age of 15, he began a four-year apprenticeship at Hotel Zur Post in St. Valentin, Austria.
His culinary journey has taken him to some of Europe's most famous houses, including the Michelin starred Residenz Hienz Winkler and The Opera Keller in Stockholm. His skills would also earn him the honor of serving as Executive Chef on the acclaimed Queen Elizabeth II as well as The Cunards' most prestigious, The Sea Goddess.
During his tenure with Royal Caribbean and Azamara Club Cruises from 1999 to 2013, Josef rose from Corporate Executive Chef to Director of Culinary Operations. His role would combine the overall accountability for Food Operations, Business Improvement & Selection as well as Training & Development for Culinary staff spanning a fleet of 24 ships, with a team of over 200 Culinary Management professionals.
Presently, Josef leads the Culinary Organization for Product Development for Sandals & Beaches Resorts and oversees Culinary Operations for 190 restaurants throughout the Caribbean. He is the driving force behind the creation of new Culinary concepts as well as the modernization of existing dining experiences under the company's Gourmet Discovery Dining Program. Chef Josef and his culinary team have set a new standard for luxury-included dining.
"Promise on what you can deliver and then deliver more than you promised!

"
"The KEY to successful leadership today is influence, not authority" 
Josef's Guiding Principles...
On Passion…
"Passion is about giving the best in you, wholeheartedly. It is about creating and delivering an exceptional as well as a memorable dining experience using only the best ingredients. Every meal is imbued with the emotion and character of the chef. Passion turns perfection into art."
On Fortitude…
"My philosophy is to shoot for the moon and beyond; even if I miss the moon, I'll land among the stars. In the course of my career, I have learned over and over that in every difficulty, lies an opportunity and in every failure, there is a lesson learned."
On Execution & Knowledge… 
"Knowing the job is not enough; one must apply it. Will is not enough; one must take action and deliver it. Well done is better then well said".
On Motivation… 
"Motivation is what gets me started; habit is what keeps me going. I do not let what I cannot do interfere with what I can do. It takes less time to do the right thing than it does to explain why you did it wrong. I believe in good, better, best. I never let it rest until good is better and better is BEST."
On Success…
"The Fundamentals of my success are my strong beliefs in respect, integrity, ambition, trust and modesty. You never achieve real success unless you love what you are doing. Ability may get one to the top but it takes character to stay there. Character may be manifested in great moments, but it is built in the small ones. Promise only what you can deliver and then deliver more than you can promise."
On Teamwork…
"I have great empathy for all the positions in Hotel Operations, especially those in the kitchen.  It is important to create a work and business environment that nurtures and values people; an environment in which every job and employee is treated with dignity and respect. The formation of a strong, talented and loyal team lies on their shared visions, goals and values.